Commercial Moving services
Seamless commercial moving services  for businesses of all sizes and industries
Get a Free Quote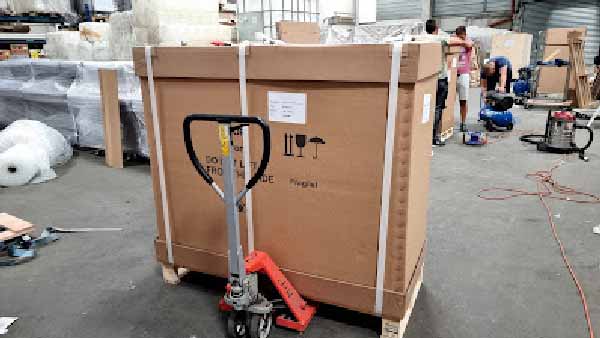 Efficient commercial moving services for businesses: Smooth transitions, minimal downtime, and expert handling of your office or workspace relocation needs.
Relocating your business is a significant endeavor, and a smooth transition is crucial to minimizing downtime and ensuring productivity. Our commercial moving services are tailored to meet the unique needs of your business, regardless of its size or industry.
With years of experience, we understand the complexities of commercial moves. Our team is trained to handle the logistics involved in relocating offices, warehouses, retail spaces, and more. We provide comprehensive solutions, including packing, loading, transportation, and unpacking, all while prioritizing the safety of your valuable assets.
Efficiency is at the heart of what we do. Our streamlined processes and attention to detail ensure that your move is completed on time and within budget. We work closely with you to create a customized moving plan that aligns with your business goals and objectives.
Trust us to make your commercial move a stress-free experience. We're committed to delivering excellence in every aspect of your relocation, allowing you to focus on what matters most – the success of your business. Contact us today to discuss your commercial moving needs and let us handle the rest.
Providing exceptional Commercial Moving Services requires careful planning and execution. Here's how we ensure a seamless transition for businesses:
Thorough Assessment: We start with a comprehensive assessment of your business's needs, including the size, type, and specific requirements of your move.
Customized Moving Plan: Based on the assessment, we create a tailored moving plan. This plan outlines every detail, from packing to unpacking, to minimize disruptions to your operations.
Experienced Team: Our skilled professionals are well-versed in commercial moves. They handle sensitive equipment, office furniture, and confidential documents with the utmost care.
Efficient Packing: We use high-quality packing materials to secure your assets properly. Our team ensures that all items are organized and labeled for easy unpacking at your new location.
Logistics Coordination: We manage all logistics, from coordinating transportation to ensuring timely arrivals at your new facility. This minimizes downtime and ensures a smooth transition.
Technology and Equipment: We employ modern technology and equipment for safe and efficient moves, safeguarding your valuable assets during transportation.
Client-Centric Approach: Throughout the process, we maintain open communication with you, addressing any concerns or special requests promptly.
Post-Move Support: After the move, we offer post-move support to help you settle into your new space comfortably.
Competitive Pricing: We provide competitive pricing, delivering excellent value for your investment.
Timely Completion: Our goal is to complete your commercial move promptly, allowing you to resume normal operations swiftly.
By following these steps, we ensure that your commercial move is executed flawlessly, minimizing downtime and disruptions, and allowing your business to thrive in its new location.
Call for Inquiry
+43 650 603 93 27